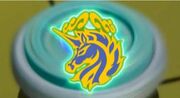 THIS BEY IS NOT FOR USE.AFTER THE ORIGINAL BEY OF THE OWNER EVOLVES, THIS BEY WILL COME TO USE.
Blaze Striker came from a great star fragment it has been recharging which stopped when it thought that  . His name is Neron.He trained and trained and he finally found the true power of his new bey Blaze Striker, an outstanding attack type bey. Blaze striker appeared in Crystal Clash.R

Facebolt: Striker

 
The facebolt depicts one of the 88 constellations. It has the same facebolt as Blitz Striker (its predecessor) but its  just that it is a very dark blue.
Energy Ring: Striker
The energy ring is a great energy ring with the mix of Pegasus and Striker energy ring mixed but more like Blitz Strikers. Some bits of the energy ring is metal which disables the stamina strength. Its energy ring has a lot of lightning carvings which allow a lot of attack power. 
4D Fusion Wheel
The 4D fusion wheel is called Blaze. This fusion wheel is very similar to Strikers and Pegasus. Its spikes are very sharp allowing it to have emerging attack power. Also with the help from A:D it can smack out even the most heaviest beys. The spikes go in anti-clockwise direction allowing the bey spin left and the 4D fusion wheel can be fliped over so that it can spin right. 
4D TIP: A:D
The A:D stands for Attack drive. The attack drive has the horns from Striker it is a bit like C145.It can change modes to defense mode by attaching the 4D track to the fusion wheel. The other mode is attack mode in attack mode you have to lower the spin track for the horns to show. In Burning defense mode the horns will come out like C145 the same for burning attack mode. This 4D tip is a left and right spin tip but in left spin in some occasions the bey would go out of control which disables the chance to control
Launcher: Blazing Destruction
The Blazing destruction launcher  is a left spin launcher. It is a bit similar to string but with automatic switching system which switches from defense launch to attack launch or if the launcher thinks it needs barrage launch it does it. It can analyse any bey and find the best launch making the bey unstoppable.
Special Moves
Extreme Burst- This bey goes outrage and it boosts the speed 5x faster and in a flash with electric it smacks out the opponents (it may destroy a bey permently but 20% chance of that happening).
Blazing Killer- This move is not used that much only if the bey has lots of power and it also may destroy a bey.
Gallery